We do not merely translate words, we convey messages
This relies on thorough training and years of experience
Paul Kremel

State-approved, authorised and sworn interpreter and translator for Russian and English
Kremel Fine Translations relies on flexible networks of highly qualified specialist interpreters and translators. For us, implementation even of larger projects within a tight timeframe (such as Nord Stream I) are not a problem.
As the client, you get the best of both worlds: the flexibility and comprehensive service of a larger translation agency, on the one hand, and the personal service, high quality and attention to detail that are features of a small but high-class boutique agency, on the other. Kremel Fine Translations: Building Bridges with Languages.
For demanding niche subjects such as the energy industry, plant engineering or international arbitration proceedings, we are the right partner. These are the areas we have worked in for years, doing so for well-known clients drawn from across the globe.
And because we are often very much at home with these very complex topics, technologies and their wider contexts, we are always able to guarantee first-class translations and interpreting services.
Our particular specialist areas are:
Industry (including the energy, oil and gas industry)
Technology (including plant engineering and construction, the chemical industry, car-making, the pharmaceutical industry)
Law (including international arbitration)
Media (including annual press conferences and roadshows)
LEARNING IS A NEVER-ENDING PROCESS
Education
1989 - 1991
Post-graduate course at the Teachers' Training University in Moscow
Major subjects: English Philology (Phonetics), Philosophy and French
1982 - 1987
Undergraduate course at the State Teachers' Training College (University) in Moscow,
Foreign Languages Department. Major subjects: English and French, Diploma cum laude
Further and continuing education
Since 2011
Qualified as a sworn and appointed interpreter and translator for Russian, English and German at the Higher Regional Court of Düsseldorf (prolongation and extension)
Since 1994
Qualified as a state certified translator for Russian and German following examination at the Chamber of Industry and Commerce in Düsseldorf, sworn and appointed at the Higher Regional Court of Düsseldorf
1991 - 1992
Intensive German course in Anrath
Professional experience
Extensive experience working as a freelance state-certified and sworn translator and interpreter (consecutive and simultaneous) for Russian, English and German for many renowned companies and organisations, including:
Court of Arbitration / Tribunal in the Hague
Simultanuous interpretation at various hearings (ICSID, World Bank)
Arbitration Institute of the Stockholm Chamber of Commerce (SCC)
Simultanuous interpretation at various hearings (e.g. Naftogaz/ Ukraine vs. Gazprom)
Arbitration hearings
Consecutive and simultaneous interpretation for law firms at various arbitration proceedings in Geneva, Vienna, Frankfurt and Stockholm (e.g. Shell Europe vs. Gazprom export, Botas vs. Gazprom export)
Ruhrgas AG / E.ON Global Commodities GmbH / E.ON AG / E.ON SE/ Uniper SE
Scientific and technical cooperation with Gazprom
Major areas: gas engineering, process automation, IT, economics of the gas and energy sector, oil & gas exploration and production, investment management, optimizing gas transportation routes, compressor stations, energy efficiency and JI projects under the Kyoto Protocol
Cooperation with Gazprom in the Area of Professional Development and Further Training
Major areas: HR management, general management, law, IT, operation excellence, engineering, accounting methods, regulation, E&P, gas/ energy trading and finance
Asset Swap Yuzhno-Russkoye Gas Field
Interpreting and translations for the largest M&A upstream project of E.ON AG
Support for the Mandate of the Board of Directors at OAO Gazprom
Translation of texts required for the preparation of the E.ON representative on the supervisory board of OAO Gazprom relating to the gas and electricity industry, corporate governance and insurance; Interpreting at Gazprom supervisory board meetings in Moscow
Ruhrgas AG's Shareholding in OAO Gazprom
Interpreting and translation services for the project of acquisition of Gazprom shares
Gas Supply Contracts with Gazprom
Interpreting and translation services during numerous rounds of talks resulting in the prolongation and adjustment of long-term gas supply contracts with Russia
Public Relations, Corporate Communications and Marketing
Interpreting and translation services for annual press conferences, meetings with journalists, art exhibitions, marketing workshops und sponsoring projects, publication of press releases, corporate magazines, brochures, newsletters and other texts
Crisis Management
Interpreting at regular Incident and Crisis Management meetings, IT and business security
Interpreting during the visit of the EU experts' group to the Ukraine during the gas price conflict between Russia and Ukraine in 2009
Nordstream AG / Ramboll O&G
Translation of the Environmental Impact Analysis and other documents required
for the planning and implementation of the Nord Stream I gas pipeline construction project
GMP audits at pharmaceuticals companies (e.g. Bipso GmbH)
Translation and interpreting services during GMP audits conducted by the Russian Ministry of Health at German pharmaceuticals companies
Real estate workshops and notary certifications
Legal and financial issues associated with real estate purchase transactions in Neuss, Duesseldorf, Berlin, Interpreteing and translating
SMS Meer GmbH (former Mannesmann Demag Meer)
Translation of all sorts of technical texts, contracts and company brochures
Interpreting during negotiations, training courses and customer events
International Business Congress e.V. (IBC)
Translation and interpreting at annual general meetings and numerous sessions of the EBC working committees held worldwide (Business Security, IT, Information and Communication, Energy, HR, Education and Science, Industry and Construction, Ecology and Health, Law, Banking and Finance), chef d'equipe services
Verbundnetzgas AG (VNG AG), VNG Gasspeicher GmbH
Translation of texts and role as сhef d'equipe organising a team of simultaneous interpreters for the international conferences dedicated to assuring safety and security of underground gas storage facilities
Daimler AG, Volkswagen AG, Skoda
Consecutive and simultaneous interpretation at international conferences, roadshows,
presentations, workshops and customer symposia in Stuttgart, Wolfsburg, Stockholm und Prag
01.08.92 - 23.12.93
Translator and interpreter with Ruhrgas AG in Essen
Department: Technical Projects East
23.02.1991
Immigration to Germany
1990 - 1991
Free-lance translator for the first Russian financial magazine "Business in the USSR"/ "Delovye Lyudi", Moscow
1986 - 1990
Free-lance interpreting and translation services for industry clients and tourism agencies in Moscow and Irkutsk
1987 - 1991
Teaching English as a foreign language at the Foreign Language College in Irkutsk
1986 - 1987
Actor in the education TV-series "English for everyone/Follow Me", Gosteleradio (Russian TV) in collaboration with the BBC, Moscow
Professional Memberships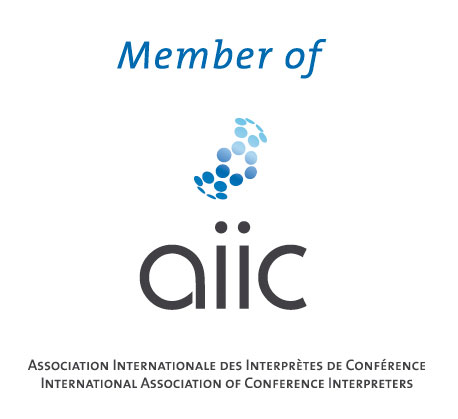 Since 2014
AIIC (Association Internationale des Interprètes Conférence), Geneva
Russian: A (native), English: B, German: B (AIIC Classification)

Since 2012
ATICOM (Association of Professional Translators and Interpreters), Hattingen

Since 2012
BDÜ (German Association of Translators and Interpreters), Berlin